Our Courier  & Totem Canoe Kits are customised to build any design from Laughing Loon Kayaks,  Green Valley Boat Works/Redwing Designs, & Bear Mountain Boats  or any other designs out there.  They are tailored utilising the designers building methods in whole or in part.

Plans for making the moulds are not included but may be purchased direct from the designers via their websites as many people prefer to make their own moulds. Our speciality is in the precision milling of Cedar strips and other harder to source essential wood components required to build an elegant craft utilising West Coast cedar and quality Hardwoods. 
This "Courier" strip package above was used to build the Wee Lassie below.
Wee Lassie Plans & Feather Weight Boat Building by Mac McCarthy are available at  Feather Canoes
The above "Courier Canoe Kit" includes:
Strips
1/4″ x  3/4″ or 5/8″ x 6′ to 7′ 10″ bead & cove Courier strips in Western Red & Yellow Cedar.

Kits shipped to US have 1/4″ x  3/4″ or 5/8″ x 6′ to 8′ 4″ bead & cove strips 

Simply specify your choice of strip width & type of cedar at time of order and depending upon available stock we will put a custom package together for you at no additional cost!
"Fineline" – Highlight Strips (Optional)
12 pcs -1/4″ x 3/8″ x 6′- 8′ Yellow Cedar strips & 8 pcs. 1/4″ x 3/8″ x 6′- 8′ dark Red Cedar strips. If you are building a lighter coloured  hull we can reverse the proportions accordingly.
Inwales & Outwales
Set of pre-scarfed, full roundover & scuppered gunnels. There are 8 pcs  with scarf cuts tapered to a perfect feather edge for you to glue together with Titebond II or III.  We provide the instructions for you to glue them together easily with professional results.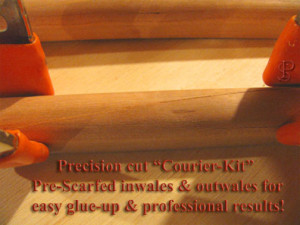 Stems
Inner (Yellow or Red Cedar) unless otherwise specified.  They are easier to bend & shape to support the ends of the strips during planking.  For more detailed info go to  Stem strips.

Outer ( Yellow Cedar, Ash or Cherry) because of their flexibility & strength. Mahogany is available to match mahogany gunwales. 
Decks
Pair of Yellow Cedar, Ash or Cherry    
Yoke
For Courier Canoe Kit pricing please contact us for a quote. 
Our Totem Canoe Kits  include all of the same high quality components as the Courier  Canoe Kits above .  The only difference is that Totem strips are full length to match each design and they are all 1 foot longer than the length of the canoe. 
All gunwales are full length. 
For Totem Canoe Kit pricing please contact us for a quote.