All good boat builders are proud of a good scarf join and that is a fact.
Totem Strips were the first to offer pre-scarfed gunnels for canoes on the North American market. There were two main reasons for this.
Our little Jade friend.
First and foremost has been the infestation and devastation of our Ash forests by the invasion of the Emerald Ash Borer. Ash once plentiful in long lengths is becoming increasingly difficult to obtain. However, higher quality "snow white" Ash can be easily obtained in shorter lengths and scarfed together from two pieces to create absolutely flawless full length gunnels. 
Ash has been used in wood canvas canoe construction for over a century. This is not because it is durable, but because it was readily available in long clear lengths and waterproof glues were not available then. That's great!  But one thing, Ash has absolutely no resistance to rot whatsoever. That's why canoeists are always replacing their Ash Gunnels.
For this reason, in addition to Ash we offer and promote gunnels in other more durable woods such as Cherry, Walnut, White Oak and Honduran Mahogany.
Secondly, full length gunnels have to be shipped ground freight rather than courier, driving up product and shipping costs.  It all adds up and we would like every one to have the opportunity to build their little yacht. In this way you can purchase and ship your gunnels economically at any time. You no longer have to deal with outrageous shipping costs incurred by ground freight and customs brokers. Add to this the risk of damage to long narrow delicate gunnels sharing space in a transport truck with many other heavy objects all around or on top of your precious cargo.
We would like to show how easy it is to glue up our pre-scarfed inwales and outwales to make a flawless join with professional results every time.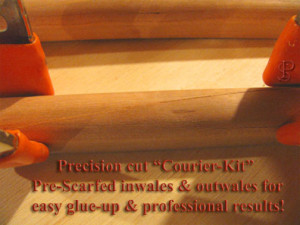 When you receive your pre-scarfed inwales and outwales you will notice the precision in the cutting of the scarf cut which tapers to a perfect feather edge. Once glued together with Titebond ll or lll , your preference, it will become an indestructible joint. We have gone to the work to make sure you will receive a perfect cut which we produce on a special scarfing jig in our shop allowing you to glue up in less than five minutes per gunwale.
Once the protective packaging is removed, note that they are mated together in a manner so colour matching is not an issue. All feather ends nest perfectly being protected in shipping by the adjacent mating gunwale. If you wish you may experiment a bit to try to improve matching but you will most likely find that they will be very close since they came from the same plank.

Experiment for a minute or two lining them up and very lightly sand off any loose wood fibers on the taper if any are present. The secret next is to dry fit them together first on a board or table of some sort and then dry clamp them together as in the top photo. Then as in the photo below apply clamps several feet back in order to stop them from sliding about then remove the clamps at the scarf to apply glue.
Gently pull the two scarf joints apart while still clamped several feet back. Apply Titebond ll or lll  glue to both scarfs completely and then squeeze them together and clamp at either end of the scarfs. If you wish you may also wait a few minutes or so to allow the glue to soak more thoroughly into the scarfs cuts before fitting together and applying the clamps. Make sure the two pieces are pushed down in place matching up as best you can along the round over. With a damp cloth remove excess glue. It is also a good idea to put a piece of wax paper underneath the glue join while it is being glued to stop it from sticking to whatever is underneath and also allowing for an easier clean up to the surface below.
Apply as many spring clamps in place as you can and allow to cure for about 20 – 30 minutes before turning the inwales over to clean the bottom off. If you are purchasing spring clamps as the ones shown below make sure you buy "Pony" clamps with the orange ends. Do not buy the cheaper imported ones which look the same only slightly darker orange. The original Pony clamps have a quality tempered spring which will never fatigue from extended clamping where as the other imported ones have low carbon content springs which fatigue very quickly.
After approximately half an hour you can remove the clamps and gently remove any glue with a scraper and then with a rougher grit sand paper sand every thing smooth. Keep your gunwales on a straight flat surface to eliminate any stresses on the glue join. That's it! As plain and simple as that!  Gently put them aside on a flat surface and allow them to cure completely before stressing and applying them. Allowing them to cure overnight before applying to the hull is a well advised precautionary measure.
If you have done every thing carefully you will have an almost invisible scarf join like the photo at the top of the page which has not been glued yet.
  Our Wee Lassie
The Wee Lassie pictured above was built fifteen years ago with scarfed Cherry inwales and outwales and was epoxied in place without the use of screws. Over time it has been left outside with water in it sometimes or lying forgotten on its side filled with leaves. It was also hung upside down in an open shed with 30 below winters howling past it. You get the picture, a little neglected, as it happens to boats sometimes, but not one single scarf join has failed or moved in any way whatsoever. We still have to look carefully to find the scarf joins after all this time.  A real testament to properly glued pre-scarfed gunwales.