Courier Kits & Totem Kits
At Totem Strips we provide 2 basic wood kits :  Courier Kits & Totem Kits  for canoes, kayaks & rowboats based on length of the cedar strips and how it is shipped.
Courier Kits are the most economical and environmentally friendly. They use high grade shorter length cedar bead & cove strips in 6′ to 7′ 10″ lengths to build beautiful canoes, kayaks and rowboats.  Building with full length strips is not necessarily the best way or only way. All traditional boat builders learned that the art of joining wood was a necessity and not difficult to do. Shipped by courier direct to your door.  For US customer it arrives without the high bond, brokerage and shipping fees associated with full length strips. Strips going to the US are 6′ to 8′ 4″ lengths. 
    Courier Canoe Kit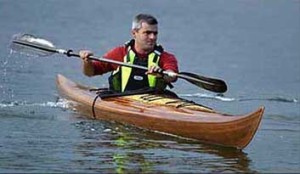 Courier Kayak Kit 
Totem Kits include high grade full length cedar bead & cove strips  in full lengths (one foot longer than your craft) to build canoes, kayaks and rowboats. They are shipped by ground freight to the closest depot near you to pick up, or to a commercially zoned business in your area.
   Totem Canoe Kit 
Both Courier and Totem Kits  include cedar bead & cove strips supplied  in 10 and 20 strip bundles in the same length and colour. Western Red Cedar varies in colour from light to medium to dark. Simply specify your colour preference at time of order and depending upon available stock we will put a custom package together for you at no additional cost.
Back to top of page