Wee Lassie built by Jim R  from Rochester, NY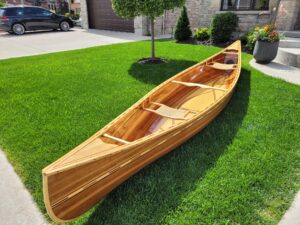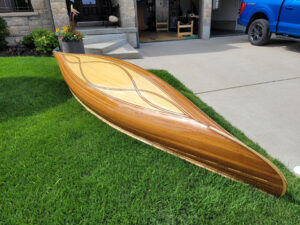 Prospector Canoe built by Steve Wilson – Listowel, Ontario
Generously donated to the Listowel Memorial Hospital Foundation
who auctioned the canoe off at their annual fundraising gala.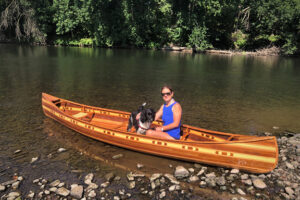 Built by   "Philippe from Lansdale, PA"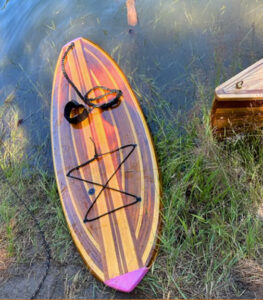 "Sliver"  SUP   built with "TalonGrip" strips  by 
Joe Gignac – Elkford, BC
"The grandkids love the SUP and I am officially the "BEST GRANDAD EVER". Your precision milled strips made for easy assembly, fairing and finishing. Will recommend your product without hesitation."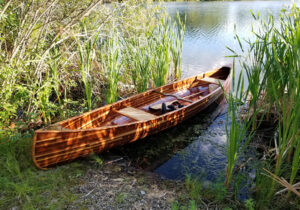 Prospector Canoe built with "TalonGrip" Cedar strips
Bold and Refreshingly different !
built by Ralph Henze, Sherwood Park, Alberta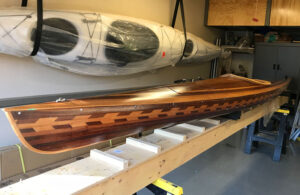 "Great Auk"  – Guillemot Kayaks
built by Bob Priebe – Parksville, BC  – very striking pattern on the sides! 
Looking forward to seeing his next build  –  a " Siskiwit" – British designed Kayak (Greenland style)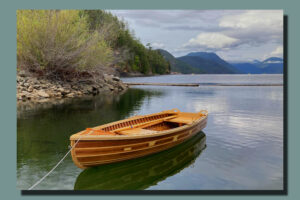 Thompson Boat 
built by Douglas Engram, Powell River BC.
"This is my third successful boat using your excellent strips.
Thanks for your good work. "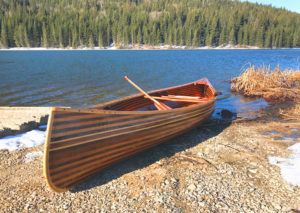 Bob's Special canoe – built with "TalonGrip" strips by George Vandermolen – Medicine Hat, Alberta
"I would like to thank Totem Strips for their excellent quality cedar and canoe kit."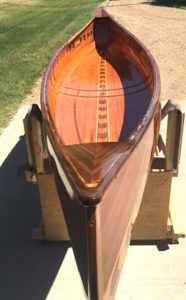 15′ Prospector Ranger …  just waiting to be varnished. 
Sharp looking pattern work on the inside & outside!
Built by Randall Hoy – Fort Saskatchewan, Alberta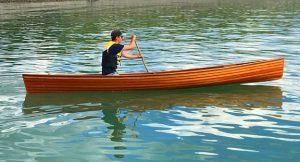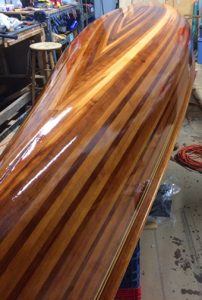 Kipawa canoe built by Bryan Sullivan
Campbell River, BC.
Ulua  Canoe – designer Gary Dierking
 " Keoni"  – Beautifully built  with "Courier TalonGrip" strips by Jon Huber of  Ventura, California   
Christening of  "Hummingbird"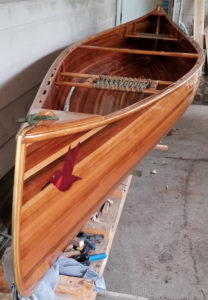 Almost complete "Hummingbird" a "Bob's Special" built by  Mike Siemens  of Vernon, British Columbia  
Brent Fossum in Lac des Isles, Saskatchewan
"I finally finished my Wee Two. I think it turned out pretty good. I am very happy and proud of how it turned out. I had a lot of fun with this project and it was easy working with your strips."
Chris Boone in Peterborough, Ontario  did an amazing job with our cedar planks on his own prototype paddleboard. 
Chris is building more & we are looking forward to his next creation. 
Eric Ayars, Chico California
"Expedition Sport" by Vaclav Stejskal – One Ocean Kayaks
"Peter & Margaret, Thanks for the excellent wood." 
Eric built an awesome kayak.  The pattern is very striking and it looks beautiful!
He is working on a new One Ocean Kayak & we can't wait to see it. 
Randy Collette – Saskatchewan 
"Definitely will be purchasing more strips from you in the future for another build. Excellent quality of wood."
Randy did an outstanding job on his first canoe a "Freedom 17"
"Kipawa" Canoe with Cherry stems,decks & gunwales in progress by Bryan Sullivan – Campbell River, BC
Looking good so far! 
Nick Bonner, Peterborough, Ont.  built a custom hybrid design between a RedBird and a Prospector using our "Courier" strips 
"The color in the strips was amazing."
Justin McAllister's "Bob's Special" Canoe 
Full testimonal on "TalonGrip"  Cedar Strip Page 
Guillemot Kayak  was built by Monte Rhodes in Austin, Texas. " My wife named it Sylph, an imaginary spirit." 
"The strips arrived this afternoon and they are beautiful, truly. "
Matt Johnson – British Columbia 
'Rob Macks elegant Wee Robbie design, both built by Kathleen Boyd'.
Lawton Tender built by Douglas Engram, Powell River BC.
Will recommend you!
"Hey this is Steven Peters. I just wanted to share with you a few photos of my finished Bear Mountain Redbird with dark ceder that I ordered from you guys a year ago.
I was really Impressed with the quality of the strips, thank you! "
Steven Peters    La Crete, Alberta
Custom Surfboards created by Patrick Salamon of Waterman Surfboards.  
Campbell River, Vancouver Island 
Beautiful Kayak created by one of our customers  in Georgia 
Two Happy Campers!   
Tim Morphy & his son by their finished canoe  …..  
Great Work & Happy Paddling! 
Below is Tim Morphy's  15′ canoe in progress and looking very good!
   St. Thomas, Ontario
Well not every project is a boat, as this amazing carving by Michael Cossever points out. Michael started out building a Hiawatha canoe and got intrigued with carving glued up strips.  Check out our Hobby Woods on our Wood Accessories page  and you will see some more of his work.
  Carving by Michael Cossever
We have so many photos of happy campers that we really don't know where to start, so we are going to leave this page pretty much free form and see where it goes from here. If you recognize your boat and your name is not beside it, we apologize in advance and look forward to hearing from you so that we may give credit where due.
A "Ranger" in Germany
Horst Blessing of Germany did a fabulous job building this 15′ Ranger with full length strips including scuppered inwales, all shipped in our Balsam Box. A nice rich coloured cedar strip canoe that must surely be a sweet paddle.
  A  "Redbird" in California.
Simply well built and a beauty to look at in this wonderful photo! 
A pure classic, the Wee Lassie. Nothing beats this classic "Solo" design which the late Mack McCarthy tweaked just a little from the original Rushton design. A simple build without superimposed compound curvature bows making it a treat to strip and a real rocket to paddle leaving all the other Wee's behind. Complete kits with moulds are available from TotemStrips.
     Our own " Wee Lassie"
We did not supply the strips on the boat below,  but our Tom Cat customer forwarded these pictures on to us. Another Mac McCarthy design -the Wee Lassie 2- is a wee bit faster than the Wee Lassie and it shows by the evidence of hardly any wake at all. Perhaps not quite as stable as the Wee Lassie but in skilled hands a faster rocket for sure. Imagine rigging this up with a semi enclosed deck, outrigger and sail.
           "Wee Lassie Two"                              
 Take note of the sweet lines ..
… on the bow, pure and simple entry.  
A treat to strip!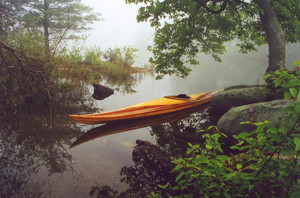 Redfish Kayak
John Waddington of Belleville Ont. built three kayaks from our strips.  His third Redfish Kayak shown in the photos above & belove  are a great example of what to do with Yellow Cedar and Red cedar. An elegant simple enough pattern pleasing to the eye.
  Redfish Kayak
Sometimes the simple restriction of having only so many strips shared between two individuals can create the most amazing patterns as shown in the photo below. Rather than letting pre-conceived notions dictate their process these two individuals let the availability of their shared materials dictate the pattern and the end result is truly spectacular. We provided these builders , with a baker's dozen of mixed red and yellow cedar which helped to determine their designs for them. 
On another note we also manufacture components for skin on frame kayaks so that you may build in the same manner as the Inuit or Greenlanders. Real ultra-lights and simply pleasing to the eye.
  Liz Leedham's …
…skin on frame kayak