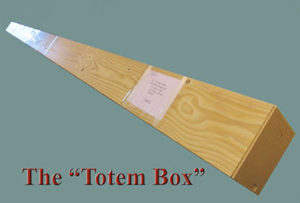 Shipping long length "Totem" strip  kits requires substantial packaging to protect the strips. We package  these strips or kits in the "Totem Box" & they are  insured for the full value of the order. 
Reduce your shipping costs with our "Courier Cedar Strips". Our "Courier Cedar Strips" are our most environmentally friendly product.  They produce a lower carbon footprint by shipping via "UPS" rather than larger transport trucks. To this date and over the past fifteen years UPS has handled our products delivering around the world from the US to Australia to Germany and Britain reliably in a most timely manner.
If you are located in the US not only do you save substantially on the cost of the strips but you save a real bundle in shipping costs & brokerage fees with UPS vs. ground freight. The difference saved in total including the cost of your components can easily add up to three or four hundred dollars US funds.

We use protective cardboard packaging  for  our "Courier"  strip kits.  If you wish to use the "Totem Boxes" for your order it will be shipped in two 8′ boxes if you are in Canada or two 8′ 6″ boxes if you are in the US.  However, this will add to the shipping costs due to the extra weight involved in the two boxes.
"Totem Box" packaging fees for full length boxes and 2- 8′ 6″ length "Totem Boxes" are $125.00
"Courier" Strip or Kit orders packaged in cardboard packaging will vary up to $ 50.00.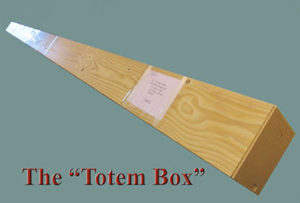 What is the "Totem Box"? Quite simply it is an engineered hollow box beam shipping box with all your goods inside safe and dry. No tube and minimal tape to deal with in your recycling woes.  They are machined from spruce or balsam. Our precision mill work shop produces some of the finest looking shipping crates.  All shipping crates are customised up to 20 feet long, glued and assembled with fastenings on a precise jig assuring a high quality box.

The full length "Totem Box" is available for only a $125.00 Cdn. packaging fee.

For larger wholesale orders or export we offer the most robust crating available any where. Precision cut on our panel saw, assembled with pride and attention to detail, rest assured, your product will arrive safe and sound.
Shipping of strips or kits packaged in the  "Totem Box"  are all fully insured for the full value of your order and shipped by carriers with a good track record.

Shipping rates can easily vary from $ 130.00- $ 300.00 across Canada.  Our discounted rates are firmed up at time of purchase.