Welcome to "TotemStrips" 
Here you will find the only Cedar Strip manufacturer in North America providing cedar strips that are sourced with protection of the environment in mind. 

We offer the most economical, and diverse line of Cedar Bead & Cove strips available any where. Our expertise in the milling of cedar strips is legendary and we ship world wide!
We are sure you will agree that our strips are "Top of the pole", second to none.
         The above 65 strips were all obtained from one single plank!
 News!
"Great Bear Mouldings" another part of our company was honoured to be asked to design and build the Architectural element of the "Big House" for the Heiltsuk First Nation in Bella Bella by Green Coast Media. This travelling exhibit will be touring the Pacific North West and Canada over the next 6  years.  This hollow knock down "airplane fuselage like" structure was sided with reclaimed cedar from the local forests and beaches with the help of First Nations people on Quadra Island. It is put together from only twelve interlocking components on site with absolutely no nails , or screws of any kind in order that it may be dismantled and re-installed many times over as it travels about.  Heiltsuk First Nation artists were also involved in painting the canoe in the exhibit.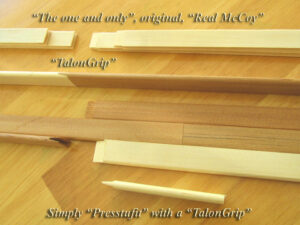 "Times are a changing", and TotemStrips is pleased to be leading the charge in the environmentally sustainable approach to boat building. As Western Red Cedar resources are drying up , our competitors are finally forced to face the facts, reducing their discriminatory demands, changing their tune so to speak. What was once unacceptable wood is now being recognised as environmentally friendly.
Trust TotemStrips to give the best, as we are here to be part of the solution, not the problem.
Great pricing on  "TalonGrip" Cedar Strips !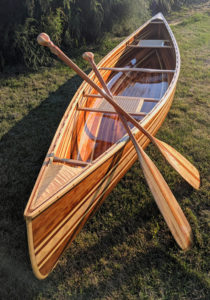 New!
The thrill is in the hunt , finding great cedar logs floating by with the tides. Adding a Woodmizer LT50 to our cedar strip milling operation, TotemStrips now processes from the log to finished strips further enhancing  quality control. By beach combing and utilising reclaimed wood we are  reducing the harm to the environment. 
Totem's     " 4 minute canoe "  video is now online. 
We have been milling our cedar strips for almost 3 decades with precision and quality being of utmost importance first and secondly  "TotemStrips" shares and passes these savings on to you offering North America's finest strips at the finest prices.
Being in the heart of cedar country,  we have access to spectacular cedar sourced in an environmentally friendly way. Coupled with our cutting edge milling processes we are able to provide many different thicknesses & widths of cedar strips. We do not discriminate against  shorter lengths under 16 feet as we consider all tight grained old growth cedar of different lengths to be special & respected.  Choosing your lengths carefully will save you money, as well as reducing waste.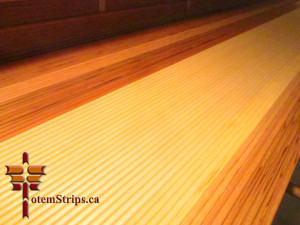 We produce strips in many different sizes and lengths for canoes, kayaks, rowboats or any other project you are building. We manufacture larger bead & cove planking for yacht construction as well.
Nothing matches the combination of Red & Yellow Cedar in creating your craft!